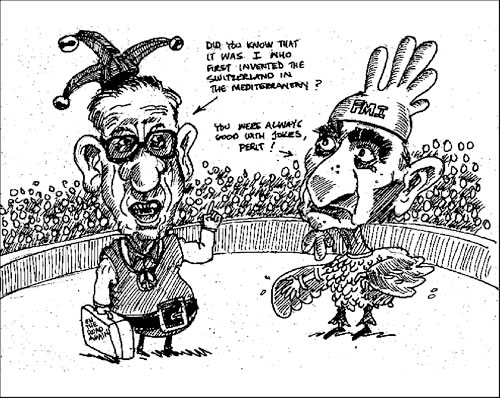 Toon This Week: Who was first, the chicken or the egg?

Profits, losses and the ever elusive market timing
While many investors in equities listed on the Malta Stock Exchange are bemoaning the drop in their share prices, more still are failing to appreciate the investment opportunities on the Exchange, with many equities currently going at virtually rock bottom prices.
There can be little doubt that many have been adversely affected by the fall to today's prices and in some selected cases have lost over 50 per cent of their investments.
But while this long drawn out bear market persists, many market players are waiting to see which equity will break from the fold and begin to surge, an event that may catalyse other stocks into a bull run as well. If such a scenario does, in fact, materialise, there will be much to be gained for the timely investor.
While such shorter-term prospects would be welcome, developments at the Malta Stock Exchange hold the prospect of much brighter longer-term prospects. Foremost among these is the recent setting up of the BorzaMed Project, which envisions the cross border equity trading between the Malta and other Mediterranean stock exchanges – including those of Tunisia, Cairo and Alexandria.
The initiative holds the promise of furnishing the local equity market with the depth and breadth it needs to truly come of age. The Project also addresses the difficulties faced by the Mediterranean's capital markets, which are particularly vulnerable given their smaller size. In this sphere, BorzaMed aims, amongst its other objectives, to strengthen the infrastructure of the stock exchanges involved through unity.
But in the meantime, the most of the MSE's equities are running at uncharacteristically low prices. But no one is an expert in market timing, not even the market makers themselves – although they of course do have in their possession a finely honed sense in such matters, which are inevitably unpredictable.
But there is a practical solution and that is to avoid committing all one's capital to one single investment, as was the case with many Maltese investing in the ill-fated Argentine bonds – perhaps with an encouraging nudge from their financial advisors. The outcome of that folly is now well known.
Unfortunately, local investors appear to be missing the point that now is, in fact, an ideal time to buy. A low market offers prime conditions in which to spin a profit. However, most people invest emotionally instead of objectively and this decision making process must be reversed if profits are to be made and if the market is to mature to its full potential.
Investing on an emotional basis is by no means a trait unique to the Maltese investor - it is a global phenomenon. Although it is less pronounced in the more developed markets, people nevertheless tend to make emotional investment decisions the world over.