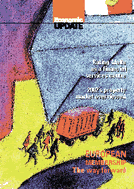 Economic Update

Overtime opt-out clause will not expire in November says EU Commission
By Kurt Sansone
A spokesman for EU employment commissioner Anna Diamantopulo yesterday confirmed that the opt-out clause, which gives employees the right to work more than 48-hours per week including overtime, is an integral part of the EU Working Time Directive and it is not reserved for any particular member state. READ MORE >>



Fuddy-duddy rightists are Sant's new friends
Alfred Sant has just found himself another playground to say no to the EU and his new friends are from the right-wing European Group of Democracy and Diversities, one of the European Parliament's political groupings. READ MORE >>



What's wrong with Labour's food prices report? 'Half-baked' says Bonnici
Economic Services Minister Josef Bonnici and Foreign Joe Borg have lambasted Labour's report claiming food prices will be on the upturn come EU accession. Josef Bonnici called it 'half-baked', whilst Borg is arguing prices will actually go down, rather than up. READ MORE >>


---
INTERVIEW
Mystery shopping in the year of the back sheep
Is your company not selling as much as you believe it should? Do you sometimes get the distinct feeling your sales manager is not performing to the best of her or his abilities? Maybe you should be speaking to Anna Maria Darmanin. Julian Manduca did exactly that.
---
OPINION
Time to decide
Foreign Affairs Minister Joe Borg addresses an NSTF Mini-European Assembly and urges attendants to vote in next Saturday's referendum not on the basis of our own personal interests or party political beliefs, as the answer will carry enormous repercussions for future generations and for the future of the country.
---
NEWS
Arnold Cassola to vote in referendum
Sex attack on Maltese company directors
What the European ambassadors think
Membership to open a new chapter in Franco-Maltese trade relations
The overtime saga dominates the last few days before the referendum