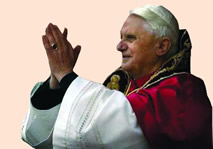 James Debono and Matthew Vella
Papal favourite Joseph Ratzinger yesterday became the 265th pope in the history of the Catholic Church, the sixth German pope, and the sixteenth pope named Benedict in the long line of pontiffs.
White smoke yesterday emerged earlier than expected at 5.50pm, and the great bells of St Peter's Basilica started chiming at 6.11 pm, as crowds thronged into St Peter's Square in the Vatican City, some running to catch their first glimpse of the new pontiff.


---

Gonzi's measures: unpopular yes, but also ineffective
Karl Schembri
While the Prime Minister seeks consolation in the three consecutive electoral defeats by saying he is willing to sacrifice his popularity for the good of the country, economists warn that unpopularity is no measure of success


---

Sant hardens MLP's stand on Euro
James Debono
On Sunday the Leader of the Opposition Alfred Sant expressed his concern that the government's strategy for the introduction of the Euro would drive the country into a wall.

---

INTERVIEW



Of low-cost airlines, hubbing and the Euro
Hoteliers and tourist operators have been clamouring for the introduction of low-cost airlines to Malta but this enthusiasm is more contained at Malta International Airport. Chief Executive Officer Peter Bolech is not overwhelmed by promises made by budget airlines of manna falling from heaven as far as incoming passengers are concerned.

---
---
MORE NEWS

Behind the name: Benedict
First reactions to Benedict XVI
Pope Benedict XVI will face a deficit
Commission sues Malta in telecoms proceedings
Insurers rally to protect spare parts from design patent
No response to golf course proposal but Government still confident entrepreneurs will come forward
Malta Stock Exchange weekly round up