Shaping up for the Euro odyssey
Matthew Vella and Julian Manduca
Malta enters the Euro with a tough road ahead of it. Prime Minister and Finance Minister Lawrence Gonzi is confident the country is on track to send the deficit below three per cent of the GDP but the sceptics believe the added pressure on cutting down in record time will not help the economy.
---

Promised venture capital still in the air
Karl Schembri
The Lm900,000 venture capital fund promised in the last budget six months ago to small enterprises and industry has not been set up yet, The Malta Financial and Business Times has learnt.

---

Leisure industry underscores difference between 'being positive' and 'dreaming'
Kurt Sansone
The Prime Minister's rallying cry on Sunday for people to be positive has raised the ire of businessmen in the leisure industry, who have had to suffer one of the worst winters ever.

---

UK foreign policy hinges on electoral outcome
James Debono
British High Commissioner Vincent Fean told The Malta Financial and Business Times that the UK's foreign policy could very well change depending on which party clinches victory in tomorrow's election.

---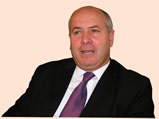 INTERVIEW
A balancing act
A long-standing member of cabinet, Censu Galea feels Government is not doing enough to communicate its programme of reforms to the people. He insists ministers are caught up with their work and failing to nurture the person-to-person contact important for Maltese society.
---

OPINION
Gaming London conference by PKF
Following the successful conference organised by PKF MALTA last year in London with Sports Business group (publishers of I-Gaming magazine), a sequel is planned this year to take place on 2nd June 2005. READ MORE >>
---
Information Technology

Hi-Tech: for the gadget savvy
2005 European IST Grand Prize Winners Announced
Scaleo P: compact multimedia PC
---
MORE NEWS

Lm700 in tax credits for women returning to work