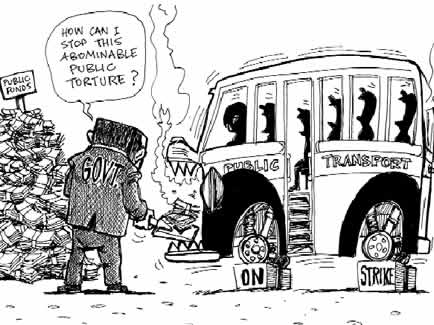 Time for radical change
The strike action by bus drivers is simply unacceptable. As always it is the public at large who will have to suffer the consequences of yet another attempt to glean off more money from public transport consumers for a service that leaves much to be desired.
All reforms purported to have taken place in the past were simply smoke screens to justify higher ticket prices.
Bus drivers are still the shabby lot they were 15 years ago characterised by an all round lack of manners and with no dress sense. Tourists are consistently robbed by drivers giving them the wrong change and elderly persons are frowned upon when they present the Kartanzjan entitling them to a discounted rate.
Time schedules are not public transport's virtue and despite the purchase of new buses the fleet remains riddled with old, rickety buses that would shame any Third World country.
Government is also at fault. It persisted in introducing an electronic ticketing system, which two years down the line is found to be riddled with faults and is generally discarded by bus drivers and commuters alike. When the new buses were purchased, partially funded by government subsidies, instead of opting for smaller, efficient transport means, the super-sized King Long buses were chosen.
Public transport is in a shambles. It is the numbers that prove this. Less and less people use public transport to service their daily travel needs. And strikes like the current one do little to change the public's perception. On the contrary they only serve to harden the perception that public transport is a disaster.
It is in everybody's interest to have an efficient and dynamic public transport. Less dependence on the private vehicle would mean less pollution, less wear and tear for our roads, less land taken up for parking facilities and an overall reduction in stress levels for individuals caught up in traffic jams during rush hour.
The current system is not functioning and will continue to suffer from a perception problem even if change does materialise. Whatever change is being contemplated, it has to be radical.
There are various options that government can evaluate. A completely subsidised circular bus service at no charge to commuters could offer the right incentive to a radical change in transport. The service could be subsidised by higher road taxes for private vehicles based on the assumption that utilisation of public transport would help reduce exhaust emissions.
Another option could be the complete nationalisation of the system with government absorbing only those employees it feels are required to run an efficient system.
A third option could be the complete liberalisation of the service with more than one operator running a scheduled service.
Whatever option government chooses, the current operators cannot continue to run the service as if it is their own. The problem now is not only one of reforming the mechanics of the service but also one of perception. And to address the psychological blockage much more than a simple reform of the existing system is required.
But a scheduled bus service does not, on its own constitute public transport. The White Taxi service has to be liberalised to encourage wider use of cheap taxis.
Water taxis within the Grand Harbour area also have to be encouraged, not only for tourist purposes but also for commuter transport within the congested inner harbour area.
Government should also consider the introduction of a circular tram service around the the Marsamxett and Grand Harbour areas. Serious studies on the feasibility of an underground train system should also be undertaken.
Years ago a private investor had suggested an underground system and also proposed financing options.
Radical change has to be the buzz word. The whole transport sector has to be re-evaluated to provide Malta with an adequate public transport system for the 21st century.