A Maltese wine in the States
Marsovin is a landmark company in Malta's commercial history and the time has come for the reigns to gradually pass down to another generation. Jeremy Cassar, recently appointed general manager responsible for the marketing, sales, distribution and export functions of the company, has a vision of Marsovin expanding its business abroad.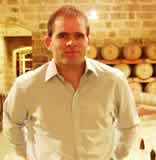 Cassar says that he wants the company to consolidate its market share but his ultimate aim is to shift the focus on to exports.
"There is no doubt about it, today local producers can not rely on the local market, they must also look outward towards the export market," Cassar says.
Europe and Libya will remain key export markets but Cassar's vision of an exporting company does not stop with the traditional markets so often sought by Maltese companies. "We would go for every single country," Cassar says. "Anyone who expresses an interest from abroad we take very seriously. My philosophy is to start any discussion with prospective foreign clients on a positive note."
Talking about the winery, which remains the Marsovin Group's core venture, Cassar says it is important for government to introduce a DOK classification system to ascertain the quality of Maltese produced wines making it easier to export them.
He insists that the derogation on wine labelling needs to be extended until Malta is in a position of producing all of its grape requirements.
You have recently been appointed general manager at Marsovin. What is your vision for the company in the coming years?
I am responsible for the marketing, sales, distribution and export functions of the company. It is my job to see what new products need to be introduced and where to place them in the market and my portfolio includes all Marsovin products not just wine. I am involved in the marketing, sales and distribution of our importation wing and all the other beverage products produced by Marsovin subsidiaries H. H. Ltd (non-alcoholic) and Lowenbrau (beer).
My vision is to consolidate our current market share and increase it in certain areas but ultimately my aim is to expand overseas. There is no doubt about it, in this business if a company like ours wants to make money today, it has to export. Getting paid in Malta is a nightmare with extended credit terms. From our experience in dealing with overseas clients we even get paid before we actually export the goods. From this particular point of view, doing business overseas is much more profitable to us.
Which markets are you looking at?
All markets from all over the world. We would go for every single country. I've just had somebody come here from the US, who has numerous contacts with various distributors. We want to export Marsovin wines to a number of US states in line with the capacity produced by our winery, targeting niche markets within these states.
Right now we are looking at any market. Anyone who expresses an interest from abroad we take very seriously. My philosophy is to start any discussion with prospective foreign clients on a positive note.
This is a rather different approach for a Maltese company. The obvious markets for exporters are the European Union and North Africa, particularly Libya, but you are speaking of shipping your products beyond the traditional export markets for Maltese companies. What is the rationale behind this approach?
The US market is so big and lucrative, which makes it an ideal export destination. Europe is a market we are already present in and intend on expanding further. The UK is particularly attractive for juices. We are developing new strategies and have also created a new department to focus on exports.
Libya is also an attractive market. We will be seeking to maintain our market share and possibly increase it further. In Libya we are number two in juices with the Safari brand. Our exports there total to around 250 containers every year. But we will also seek to expand into Tunisia shortly.
The idea is to establish a good contact, develop a working relationship and move on with the project. It's the same the world all over but while some people find it easy to talk about exports others find it easier to simply get down to business and make it happen. And that is the difference between a successful company and one that simply talks about exporting products.
Marsovin is a family-owned and run company. But you have also roped in people from outside the family at various levels of management. What benefit has the company derived from such a strategy?
In any business you have to try and find the best possible people for the job. The company is growing and it has been for quite some time now that we have roped in people from outside the family. The company is still wholly owned by the family but this shouldn't mean that the company must be run completely by family members. In today's reality it is difficult to have a company run only by family members.
Marsovin has been engaging outsiders for years and this long-term strategy is now paying dividends.
How difficult is it to do business in Malta today?
There are both good and bad aspects. The fact that the market is small and you are able to develop a good long term relationship with clients is a positive aspect. But there is a big cash flow problem, which is making it difficult for businesses to operate.
What would you say are the factors contributing to this cash flow crisis?
It is purely an economy-based issue. There are a lot of reasons why the economy is not performing as it used to and cash flow is definitely one of the symptoms of such a scenario. Furthermore, companies are still adapting to the new situation the country found itself in after EU membership and this has also created some problems with cash flow.
It has been one and a half years since Malta officially joined the EU. The Marsovin winery has had to face stiff competition from cheap foreign wine imports. How has Marsovin restructured to face up to this challenge?
Once Malta joined the EU we had a lot of cheap foreign wines flooding the market. We did forecast such a scenario and had established an import company ourselves to defend the company's profitability from the onslaught and to retain as far as possible the market share of the whole group.
Despite having an importation arm, the heart of the company still lies in its winery. We have put immense effort into the production of good quality Maltese wines and we are constantly emphasising that Marsovin is a quality wine company.
We have private estates that enable us to produce premium wines. The secret of a premium wine is having a vineyard in your possession and enabling you to have total control over the wine's production from A to Z. This helps us to achieve excellence. We are constantly promising consumers quality and so we have to match it with deeds.
The premium wines we have been producing were not really affected by EU accession. People, who were ready to pay a good price for a premium Maltese wine, still continued doing so after membership. Sales of our premium wines have actually increased.
We recently launched two new quality wines, Ulysses and 1919. Market take-up has been amazing. Ulysses sold out in three to four months, which is a good achievement and is a reflection of the attitude adopted by the Maltese consumer towards locally produced quality wines.
Cheap foreign imports did dent our market share for non-premium Maltese wines but this we knew beforehand would happen. The influx of foreign wine has however made it possible for people to taste different wines and compare them. When people experience different products it also gives them the chance to increase their knowledge. A knowledgeable consumer can compare varieties and even taste buds mature.
The derogation obtained from the EU over labelling of wine made from imported grapes will expire in the near future. How is Marsovin preparing for this eventuality?
Government is fighting for an extension of that derogation which we believe is important for the industry. EU labelling regulations may be convenient for larger wine producing countries but less so for smaller states.
In our case we need to import grapes from Italy to be able to compete with imported wines that can be sold for cheap prices.
It is impossible to produce a wine at varietal level and retail it at shops at Lm1.20 because we would not be making money. Our economies of scale are very small. We do not yet have enough vineyards to produce the right amount of grapes to make it possible to produce a large number of varietal level wines making it feasible to sell at lower prices.
Do you foresee a situation where the wine industry would be producing enough of its own grapes to cover the demand?
It is possible to do it and today we are increasing our range of wines produced completely from local grapes. We have been and intend expanding further, the subcontracting of vineyards to be able to produce good wines at a cheaper price. Wines produced from our very own estates are premium wines that can never compete in price with the lower range wines. Running our own estates has a cost to it and that is why it is defined as a premium wine.
You have recently called on government to set up a DOK (Denominazzjoni ta' Origini ikkontrollata) certification system. Why is it necessary for your industry?
When exporting, a DOK certification will definitely help because serious buyers do ask for certification to verify the claims being made by the winery.
Certification establishes the quality of a wine at a certain level. Having DOK on the label immediately benchmarks the wine at a high level. All EU countries have a DOK system – the Italians call it DOC while the French call it AOC. Malta is behind in this aspect and we have to be there alongside the others to be able to compete and penetrate more markets.
But DOK would also create more control on the industry itself. Marsovin's strategy is to be completely transparent with the consumer. We tell the consumer from which vineyards a wine was produced, how many vines were in each vineyard, what was the yield for a particular year and how many bottles were produced. It is so easy to produce a bottle of wine with no information on where the vines were situated, how many bottles were produced and how many grapes were pressed for that particular year.
At this stage we have to continue emphasising quality and Marsovin is adamant on providing all the information necessary for a wine lover to appreciate a good quality Maltese wine.
As things stand anybody could import a truckload of grapes from anywhere, press it, bottle it and stick on a label saying it was produced in Malta. But this is misleading on the consumer and guarantees no quality. Until the DOK system is in place nobody is actually checking to see whether the actual grapes for that particular wine were produced in Malta.
How easy or difficult has it been to convince farmers to shift their production to grapes?
I would say that it is not too difficult. In the beginning they were hesitant because it was something new for them. What is interesting is the fact that to date we still get enquiries from Maltese and Gozitan farmers who are interested in planting vines on their land.
However it is important that farmers are advised well. It is not simply a question of planting vines. The farmer has to be guided as to what vines he has to plant and made aware that he will only rake in money from the project after the second year.
The farmer will get subsidies to plant vines and arrange rubble walls but until the plantation matures, the farmer will not see any income.
Therefore it is of paramount importance that farmers are advised well before they invest time and money in the project. The winery has to advise the farmer what to plant. We know what consumers want to drink and this knowledge we have to transfer to the farmers.
Within this context we have had successes. The recently launched Ulysses, with a production of 16,000 bottles was completely sold out by August and when farmers see such a response they are encouraged to co-operate with us.
Not all grape varieties grow well in Malta. The Sauvignon grape variety does not characteristically grow well in Malta, as it needs a very cool climate to grow in, which Malta does not typically retain. On the other hand the Syrah grows extremely well. These are factors that need to be taken into consideration.
Unfortunately there have been some farmers who were ill-advised on what to plant and are today suffering the consequences.
Does Marsovin have plans to expand its private estates?
It is possible that we could expand but we do not have immediate plans, as a company that has a forward looking vision, we never say never. Each of our estates produces grapes for a particular premium wine and we've got quite a lot on our hands already.
Jeremy Cassar was interviewed by Kurt Sansone