| | |
| --- | --- |
| Interview | Wednesday, 04 March 2009 | |
While in Malta to conduct a course in Project Management, 37-year-old Lebanese civil engineering guru Dr Firas Abouzaki spoke to Business Today on the future of project management and how construction in the Middle East has been affected by the global economic downturn. Interview by David Darmanin
What led you to enter the field of project management?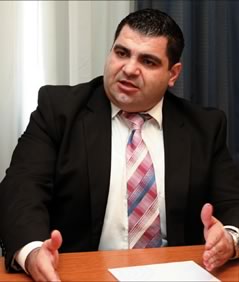 The high demand and low supply of efficient and well skilled Project Managers in the region, which I have interpolated by completing my Masters in Project Management from George Washington University in USA, and by pursuing my studies with a PhD in Engineering Management in 2006.
The standardisation and integration of Project Management was introduced in the 1950s, which marked the beginning of the modern Project Management era. Then, thanks to a non-profit organisation called Project Management Institute (PMI - USA), the knowledge of Project Management was standardised by 1969 when everything was compiled in what we call the PMBOOK. I have been the elected volunteer Director of PMI in UAE since 2004.
What were the most major projects you managed so far?
I have managed over 47 projects running at the same time with Habtoor Engineering Enterprise in the Arabian Gulf, Lebanon and North Africa when I was their head of Project and Planning Management. I covered a total contracts value of US$3,831 million. Habtoor was the company to build Burj Al Arab, by the way. Out of the four projects, we have been in charge of the development of the Jmeirah Beach Residence (36 residential Towers of 50 to 60 floors each) out of which Habtoor had eight towers, the 13 Business Bay high-rise towers ranging from 42 to 55 floors, the five City Centre Doha five star hotel towers of 50 to 60 floors and the 96 floors Dubai Tower in Doha Qatar – a US$725 million project. Then there were several hotels such as Grand Habtoor in Dubai, another in Alexandria, and Metropolitan Hotel to mention a few… Others were the Dubai International Terminal 3 Airport – a US$1.2 billion project, and the Abu Dhabi International Airport - a US$825 million project. In addition, I was in charge of more residential towers, hospitals, universities and villas.
In my current position at International Project Management (IPM), I am working as the Head of Projects Controls and Operation Departments, managing different mega construction projects including villas, towers and shopping malls in the Middle East Region, with total contracts value of US$3,724 million
You are in Malta to conduct a project management course. Is the course for professionals in the construction industry or is it open to other professions? What is the mix of professions that have attended?
The course is open to all industries. Utilisation of Project Management skills can stretch as far as managing a family or a career, which also require time and resources as much as a technical project requires. Each and every one of us may be seen as a project, including my 8-month old baby Celine.
Project Management is open to industries. In fact, the 265,000+ members of PMI hail from diverse backgrounds – including business, engineering, information technology and pharmacy.
Professionals attending this project management course in Malta are mostly Engineers - electrical, civil, and computing; architects; IT and business professionals. I also had two members coming from the pharmaceutical industry recently.
What is your impression of project management in Malta? Is there a strong culture or is there a long way to go?
Well, you cannot access or judge this from 40, or even 1,000 course attendees. To get this kind of information you need to carry out a survey with a quota of 1000 to 5000 questionnaires. Actually, this would help assess the lack of Project Management skills if any, or at least part of its management and body of knowledge.
How is the world economic downturn affecting your industry?
In the opposite way one would expect it to. Nowadays, demand has actually increased in our industry – especially when it comes to consultancy. The reason for this is because in today's market there are more disputes and there is a greater requirement for value engineering to save time and costs. Developers nowadays want to minimise risks, and we are experts in this field.
What is the future of project management?
I envisage a growth in demand. There will probably be such a great demand that as a standard requirement - every professional in the industry will be required to be certified as a Project Management Professional (PMP), or similar.
Where is the construction industry heading in the Middle East?
It is slowing down in some areas like the United Arab Emirates and Qatar, but it's opening up in others like Saudi Arabia.
How far can development at the UAE go? What are the plans? Is the situation temporary?
There is a major slowdown in construction in the UAE, and this is fuelled by the international crisis and the dwindling demand in real estate. It is foreseen that the real estate boom will be replaced by an industrial one. This situation is temporary however, as some are counting on oil prices to go back to US$100 per barrel.
Where do you think are the emerging construction markets?
Definitely Saudi Arabia and Africa, while the USA and Canada are promising. President Obama promised infrastructure and power projects whose costs total over US$900 billion.
PRINT THIS ARTICLE

---
Other News
GWU Economic stimulus package presented to MCESD
Hospitality Director appointed at AX Holdings
New CEO for Malta Maritime Authority
Salvo Grima (Freeport Operations) Ltd. appointed Logistics Partner for JAG flocomponents
ECB expected to lower interest rates to an all-time low of 1.5 per cent
Economists clash over EC assessment of Malta stability programme
Customer Recession Management: Sell Smart not Hard
Commission gets rid of accounting requirements for micros