| | |
| --- | --- |
| Interview | Wednesday, 27 May 2009 | |
Herbert Kaufman is the CEO of Flughafen Wien AG, operators of both Vienna International Airport (VIE) and the Malta International Airport (MIA). SAVIOUR BALZAN caught up with him at the company's new premises at the Austrian capital. According to Kaufman: "VIE was one of the first airports to be partially sold off by the government back in 1992. Since then many parties have benefited from the VIE privatisation, including airlines leading towards higher service and quality standards."
How would you describe the success story of VIE in terms of shareholding over the years?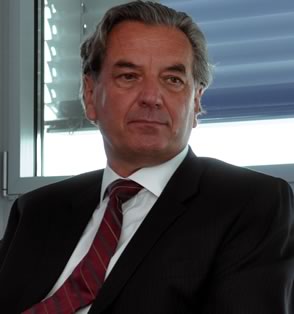 As you said, VIE is indeed a success story. In 1992, Vienna Airport was the second airport to be privatised after the UK. The privatisation of Vienna Airport took place in various steps, with the last step in the year 2000.
The ownership structure is now such that 20 per cent is owned by the City Council of Vienna, 20 per cent owned by the lower provinces of Austria, 10 per cent by a trust dedicated to employees taking an annual dividend, and the remaining 50 per cent is floated on the Vienna Stock Exchange.
It is important to note that the Federal Republic of Austria owns no shares in the Vienna Airport, therefore there is no conflict between the airlines and the airport. That's a very successful ownership structure.
Passenger figures in 2008 show a record in terms of numbers, but are you looking at a downward trend this year? You still seem to be looking at eventual growth, how will you take this into consideration?
First, it is true that the number of passengers grew in 2008. In fact we had 19.7 million passengers and a growth rate of 5.2 per cent, which is well above the European average – which in fact showed a decline of 0.7 per cent.
2008 was a record year after another record year in 2007 – which is when we witnessed double-digit growth. The last couple of years have been really successful.
In 2009 we expect a decline in the number of passengers by approximately 9 per cent. We will end up with 18 million passengers this year. This impact is attributed to the economic recession, especially due to a decrease in business travellers.
Leisure traffic is not doing so badly, but business travel is declining. However, the long-term perspective for the aviation industry is that there will be more growth, there's no question about that.
By 2025-2030 the number of passengers can be doubled. In Vienna we're expecting between 27 to 37 million passengers in 2020.
That's almost double the amount of passengers you carried in 2008…
That's right. In 2008 we were close to 20 million passengers.
You're looking at extending an additional runway and there are other projects. How did you deal with the problems of such a project? I'm informed that there were many different parties involved – the residents, political parties, Green groups – how did you tackle this situation?
We're operating two runways and we will need a third runway in the coming years. This depends on the traffic development in the coming years.
What is important at this stage is that we receive the planning development for the third runway, which carries an environmental issue.
We held a large-scale discussion and mediation process over the course of four years.
It was a big discussion process including all the communities surrounding the airport. This included 17 green groups along with the owners of the airport. As a result, the development of the third runway was accepted.
This project is now going to be approved by the planning officials, and will end with some mitigation programmes especially to reduce the noise. We will be looking for new paths and new approaches to the runway, including measuring noise in nearby houses.
At the end it was a success story, despite the fact that the process might have been tedious and a long-winded. Was it a positive experience for Vienna Airport?
It was definitely a positive experience because if you look at other airports in Europe, they need close to 10 years to receive planning approval, especially in environmental terms.
We had decided to build up a big environmental discussion process with these groups, and this turned out to be really successful.
How do you look at the Malta operation, and where are you thinking of expanding beyond?
We are really happy with the airport in Malta. It is a good development. We are fully satisfied because all the numbers we delivered were within our expectations.
And with regard to other projects in other countries? There is a small airport in Kosice…
With other members of the consortium, we operate three other airports in all – the Malta International Airport, the Kosice Airport – which is doing very well and an airport in South Germany.
Do you think you will regain ground to remain on the fast track after 2009?
We are very successful in our operations but nobody knows what the future holds, especially in the short-term.
The aviation industry is very much related to GDP growths and nobody can estimate how much such growth in Europe will be at a time when the forecasts for decrease in GDP are even higher than last year's.
However what we can say is that Vienna Airport is very well positioned and well-prepared to face all these consequences.
We'll see what the future will bring, especially for 2009, when we expect a decline of passengers of 9 per cent.
PRINT THIS ARTICLE

Other News
Vodafone subscribers drop by 6,000 in Q1
Weighing and Measuring performance with promises
Promoting business with Switzerland
Maltese financiers to invest in Bulgarian property
Oracle ECM Conference 'A success story'
FIMBank talks about financial crisis in Washington
ICON launch new Light website featuring Web 2.0 integration
Melita renews support for Malta Football Awards
Malta promoted at Jeddah Conference
HSBC supports life at Mgarr Harbour – in pictures
---