| | |
| --- | --- |
| Interview | Wednesday, 24 June 2009 | |
It comes as no surprise that the Italian jewellery company Damiani, like all others, is registering lower sales this year. But once the brand remains a favourite among the big names in Hollywood - the firm's third-generation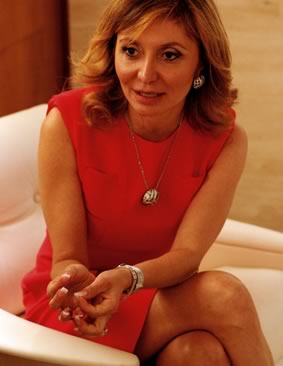 Vice-President Silvia Damiani, rightly acts cool in the face of a world recession. This year, she celebrates the firm's 85th anniversary in style. Interview by DAVID DARMANIN
Damiani this year celebrates its 85th anniversary. Your grandfather was popular among important Italian families, for which he created custom-made jewellery. What made him so successful?
Yes, my grandfather used to produce one-of-a-kind jewellery, but this was in a different era altogether. Only after the second World War has luxury become more democratic, with many more people becoming able to afford jewellery, among other expensive items. Back then, the jewellery market was almost exclusive to aristocratic families, who from time to time bought pieces to mark an important event – say a wedding or an engagement.
My grandfather was very appreciated and well-known – primarily due to his technical and creative skills.
Has your father inherited similar skills?
The biggest difference between the two is that my father started creating jewellery that is coherently associated with a specific style. We continue to make custom-made jewellery, with a specific division within the group dedicated exclusively to this area. But every Damiani piece has to have our DNA in it, and this is a very important principle which my father first applied. Whether we deal with VIPs or otherwise, if a client requests a specific piece, this needs to be coherent with our style, otherwise we just don't make it. I remember one time when, as hard as I tried, I could not bring myself to accommodate a client for a specific request to design an earring with the top of a drop shape facing down and the bottom facing up. I couldn't ruin a piece of jewellery that way, so I had to tell the client, and she understood.
What other stories can you tell us about the foundation of Damiani?
I regret to say that I know very little about my grandfather. He passed away in 1955, long before I was born. My father was not the talkative type, so he hasn't told me much about my grandfather. What I have learnt is the way he worked, along with his principles and skills which have been passed on to me. But one funny thing I remember my father telling me about my grandfather is that he was colour blind – which is not very practical when you are a jeweller. At times, he had to ask my father whether a piece was in white gold or not. Nonetheless, he was a very talented man, and when you are an artist you always find a way. We still have a collection of pieces created by my grandfather, but I don't know much about him. I know much more history about my mother's side of the family than that of my father. My father was not very Italian when it came to certain things. He was rather reserved actually. I, on the other hand, am really curious, and God knows how many times I asked him questions. One of the reasons why I started working at the firm was for me to get to know my father better – who was a rather atypical man. He spoke a lot about work, but never much about his childhood. But thanks to his great passion for his job, working at the firm drew me very close to him.
Your style seems to be very much inspired by art deco. Have you inherited this from the 1920s?
Yes, for example, two of our best selling collections are decisively of an art deco style that is inspired by and somehow linked to the past. There are styles which we have inherited from those days. We very much enjoy using an approach whereby, using a modern style, we recall our roots. All of our watches are very art deco, although there are many other items whose style is very modern.
Have principles changed down the Damiani generations?
Principles remain. It seems as though my father transmitted to us a passion for this job. We are born creators and manufacturers of jewellery items. It is in our DNA. Among the many jewellery brands, we are the only ones to have been producers right from the start. Others began as retailers and then started producing as they grew bigger, adopting their own style.
In the 1950s, your mother also became involved in the running of the firm. Given that, especially those days, the Mediterranean culture was very patriarchal. Was it not difficult for her as a female executive?
My mother was my father's right hand in the firm, and she is still active in the firm these days. My father had a creative spirit, and she turned his passion into hers. My mother is also a very humane person and she is loved by many. She remembers every detail on people she meets at work – including the names of clients' grandchildren. The firm is now public but in many respects we are still very much family run.
My father very much respected my mother for her abilities but surely, he was always the boss – and a very capable one too. This does not at all mean that he did not have many female collaborators at work. This sector produces a majority of items targeting female buyers, so the feminine side to our business is extremely important. Nowadays, 70 per cent of our staff is made up of women. Personally, I never felt that I was treated better or worse by my brothers or my father. Our family believes in meritocracy – even when we're not at work. Even when we used to go out at sea as a family – I always wanted to do the same things my brothers did - from handling the ropes to sailing and cleaning the decks. I also believe that roles should complement each other. I do not feel I should play the role of a man and I don't think a man should behave like a woman. I am very happy with the differences between the sexes. In a family context, both with regard to differences in character and of course, in gender, we work together for a common goal while one's strengths complement the other's weakness and vice-versa.
At what point did you decide to internationalise your brand?
My father dreamt of going international as from the first day he got involved in the business. He was always a man of great ambition. He believed in taking a step at a time. My parents, being very hard workers, built up everything by themselves – while of course following the tradition they inherited from my grandfather. Starting off with expansion in the Italian market was the most natural choice, although it must be said that Italy is not the easiest of markets, because of cultural reasons. The Italian customer tends to be very discerning. So if your product does well in the Italian market, you're sorted. Being famous in offshore markets will of course entail massive investments, because this also means opening new outlets and creating the identity of an international firm.
Any multinational corporation passes through its ups and downs, and at times, some stories turn out to be controversial. Brad Pitt and Jennifer Aniston used Damiani jewellery both for their engagement as well as for their wedding. Then they filed a court case against you, but some time after you not only settled amicably, but they also ended up being important endorsers of your brand. Wouldn't you say that Damiani's controversial story was in fact a blessing for your international identity?
Surely, there is an element of luck in every success story and there are always things that happen by chance. The story began when casually, Brad Pitt had liked a pair of earrings I had designed after these had won the Diamond International Awards. He then requested a special item for his engagement to Jennifer Aniston based on this same model. We were then asked to create the wedding bands and one thing led to another. But this just happened, and it gave huge visibility to our brand. I am not saying that if this wouldn't have happened, the same product line would not have been successful anyway, but this story certainly accelerated our notoriety. But in this industry, things just happen. Just think of Breakfast at Tiffany's and how this film boosted, and continues to boost, the success of the Tiffany brand. I think it is all a matter of knowing how to best exploit such situations.
Why are you interested in the Maltese market?
Our rapport with Malta dates back a while. We have always considered Malta to be part of Italy, although I don't know whether this flatters you really. While respecting all your traditions and identity, being so close to each other, Malta was always a market we worked with closely, with a culture that is very comparable to Italy's. Personally, this is my first time in Malta but as Damiani, we have been working together for a long time.
Malta may have a population of 400,000 but Monte Carlo is even smaller. One would assume that you look for quality in a market rather than the size. How do you find the quality of the Maltese market?
The profile of the Maltese customer is very high, and we have sold some very important pieces here. We sell quite a lot in Malta, although admittedly, this is a difficult year anywhere in the world. But we still sell, and we know that the Maltese customer looks for quality.
Do you consider jewellery to be an investment or a mere extravagance?
I think that jewellery is an emotional investment. It lasts a lifetime and it can pass from generation to generation. But whether it is the kind of product which appreciates, say 10 per cent per year, I do not know. Jewellery gives those who wear it a sense of joie de vivre and completeness. With jewellery, you get the value of knowing that the same item could have been worn by your grandmother at some ball when she was 18 years old. Jewellery tells stories. Certainly, one can do without jewels but it is undeniable that people enjoy beauty. When you buy jewellery, you buy solid valuable material but you also get the added value of the design with all its history and tradition. Jewels are not items you put aside and stop wearing them.
Even during these difficult times, buying jewellery is less capricious than many other things. It is true that in times of recession, jewellery buyers are less rich than they were before, but most of them are still rich enough to buy. One motivation to purchase jewellery now is so that we can remember a beautiful moment during difficult times. We have in fact come up with a limited edition collection, which in a year like the one we're passing through, aims to bring out the joie de vivre in people. One of our best selling items in this collection is full of colours. It almost talks, in these times of trouble, saying "so what? I'm 85 years old but the celebration goes on."
PRINT THIS ARTICLE

---
Other News
IHI launches €30m bond issue, undertakes new projects
British Airways to suspend Malta to London Gatwick route
20 companies await government reply for assistance to beat recession perils
Budgetary deficit under IMF delegation spotlight
EC calls for accountable governance of the internet
Vodafone sets up Mclaren Mercedes Pit Stop Challenge at the Trade Fair
Farsons appoints CEO Designate
An affordable solution for tourism operators
HSBC employees complete Diploma in Financial Services Operations and Compliance
Melita introduces 50 Mbits internet speeds
BOV Tunisia Hosts Business Delegation
The curious case of Benjamin B