---

Editorial
A consensus on VAT, good news at last!
Tuna war highlights political vacuum
---

---
Focus
Price Club quo vadis?
Both Leo Brincat and Vince Farrugia tend to agree that Government need not intervene in the Price Club issue and they also give their views on a foreign take-over.
Opinion

Building a successful entrepreneurship policy
By Edwin Vassallo

Parliamentary Secretary in the Economic Services Ministry, Edwin Vassallo, spoke on Monday about the formulation of an entrepreneurship policy for Malta and the inherent need for a co-ordinated and multi-disciplined approach for Malta's socio-economic environment. Following are extracts from his spe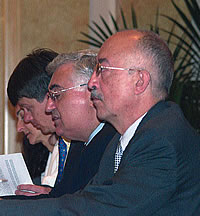 Finance Minister

John Dalli

yesterday said Malta had set a precedent in the world by unilaterally taking corrective measures in the offshore regime.

He was addressing an OECD forum

at the Hilton, he is seen here with Attorney General

Anthony Borg Barthet

Photo Paul Blandford

Maltese millionaire sells Irish gem
By David Lindsay
Maltese lateral thinking guru Edward de Bono has decided to sell his 33-acre island, West Skeam, located just off the coast of western Ireland. The island, which De Bono had purchased for £350,000 sterling five years ago, has been placed on the market for in excess of £1million sterling

Intense negotiations with foreign investors and Andrews Feeds at Price Club
The Price Club chain of supermarkets is undergoing intense negotiations with foreign investors and local company Andrew's Feeds over a possible sell out of the chain

Compensation claims to be settled
Persons who were awarded compensation for injustices they suffered years ago, but who were never paid what was due to them, are to be awarded an ex-gratia compensation of not more then Lm5,000 each

Sunblock raises GWU ire
Failure to provide meter readers with sunblock has led the GWU to issue notice of industrial action for the section of meter readers. Meter readers will not be working after 11.00 am from today

Air Malta joins Greenpeace in blockading Norwegian whale exports
Supporting Greenpeace's bid to prevent Norway from breaking a 15-year ban on whale meat exports, Air Malta, along with 20 other airlines, has pledged not to transport blubber or meat from whales

Nationalist government comes to terms with Tuna fiasco
By Kurt Sansone
The decision by the Nationalist Party to postpone the 'Fish Fair' that it holds annually at Marsaxlokk is indicative of the ill manner the government handled the tuna fishing controversy between Maltese and Italian fishermen

Discovery Centre to be converted into household department store
By Kurt Sansone
The Discovery Centre at Bay Street will shortly change its livery and turn into a department store selling household goods and furniture

Malta and Iceland debate greater economic linkages
Minister for Economic Services Josef Bonnici has just returned from a short visit to Iceland where he had meetings with Ms Valdgerdur Sverrisdottir, Minister of Industry and Commerce, and with Mr Sturla Boovarsson, Minister of Communications.

Setting a precedent in international finance
Finance Minister John Dalli yesterday explained that the had taken its toll on smaller countries with limited resources and on operators in the areas affected but that Malta has still made considerable progress in the area.