The Malta-Venice-Riga connection

What do Malta, Venice and Riga have in common? Not much, apart from Mariner ≠ a Maltese company set up to invest in and operate ports and terminals around the world. Shipping is known, and rightly so, as one of the most competitive industries and a Maltese company is quickly establishing itself at its forefront. David Lindsay speaks to Marinerís Marin Hili about the companyís operations in Latvia and Italy, its future expansion plans and what he looks for when investing in a port.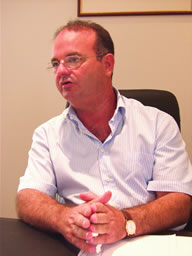 If the irrepressibility of the Maltese entrepreneurial spirit needed any further attestation, it can easily be evidenced in the persona of Marin Hili, the former Malta Freeport Chairman whose interests today include a 100 per cent ownership of the Baltic Container Terminal in Riga, Latvia and a 50 per cent stake in the Terminal Intermodale Venezia SpA in Venice, Italy.
Hili, through his company ≠ Italian-registered Mariner SpA ≠ is now seeking further investments in ports and terminals in other strategic locations and, Mariner announced yesterday, is giving the public the opportunity to become involved through a EUR9 million bond issue.
Meeting Hili at his Malta office, his easy, amiable manner belies the sharp business acumen his success is attributable to.
Hili comes from a line of shipping, with his family being involved in shipping and trading since as far back as 1923. Hili himself entered the business in the early 70ís, a time that saw the family business diversifying its operations into other related activities but, for the most part, still related to the shipping industry.
As similarly successful Maltese businesses have also done when the confines of the local market became something of a restraint, the business sought new pastures overseas.
He explains, "We took the view that with Malta being a relatively small market and with shipping being an international business without boundaries, we need to start looking for opportunities overseas."
These opportunities were found, and seized upon. In fact, the last nine years have seen Mariner SpA, headed by Hili, take a 100 per holding in the Baltic Container Terminal in Riga, Latvia and a 50 per cent stake in the Terminal Intermodale Venezia SpA in Venice.
BCT is today the largest shipping terminal in the Baltics in terms of container throughput thanks, in part, to its status as the leading entry point from the Baltic states to the important Russian market.
Hili describes the enterprise, which he has been involved in for the last nine years, as "rewarding," having managed to break into the market soon after the loosening of the Soviet Unionís hold on Latvia after 1992 and the ensuing opening of the Baltic markets.
"By going into Latvia early," Hili elaborates, "we managed to give the port an impetus. Donít forget that up to 1992 Latvia was part of the Soviet Union. As such, everything was government run and we gave it a private sector injection. We reorganised the operations at the port, always with a view to better utilising the space available and utilising our investment to the fullest.
"Location is of primary importance and the Riga port is a gateway to the Baltic states and to the important market of Moscow, which is probably the most important market for the BCT.
"Whatís even more interesting now with Latvia becoming an EU member, is that trade through Latvia and the other Baltic states and Russia is expected to increase due to the bi-lateral agreements the EU has with Russia and which will effectively be applied to Latvia upon membership.
"Another decisive factor in our decision to invest there was the fact that itís a natural port, which means itís infrastructure has been developed over the years. Having an infrastructure in place is critical; today very few people would invest in heavy infrastructural works such as constructing the quays themselves."
Traffic through Marinerís Riga port has grown threefold since it first became involved, with levels of 40,000 TEUs passing through the port just nine years ago. Today that figure has grown to 120,000 and the last three years in particular have seen significant increases in traffic, with an average rise of 20 per cent each year.
More recently, in June last year, Mariner expanded its interests from the Baltic Sea to the Adriatic when it took a 50 per cent stake in the Terminal Intermodale Venezia SpA in Venice, Italy. Location, again, was a prerequisite in that Venice is the gateway to Italyís prosperous Veneto region, which is home to a large number of small to medium sized companies with high added value operations. The port is also within range of Slovenia and southern Germany.
The terminal, which is the largest in Veniceís Porto Marghera, has traditionally been used as a general cargo facility and last year saw some 1.3 million tons of cargo passing through it ≠ an amount Hili expects to rise this year.
The Venice terminal is linked to another inland terminal in Verona, also owned by Mariner. The link is made by special cargo trains, which pull up straight to the terminal, and are loaded with cargo, which is then freighted straight to the Verona terminal. The operation is similar to that in Riga, where trains pull up to the terminal, are loaded and go straight to Moscow. Both the Venice and Riga operations have warehousing facilities.
Hili explains, "Weíre very well placed there, with Verona being a large catchment area with its large number of manufacturing businesses. The amounts of cargo are significant so we make use of our own block trains, which makes us much more competitive.
"Today customers are not only interested in having their cargo shipped from one port to another, they want a total cost for a total service and we are able to provide that at a competitive rate."
Marinerís partner in the Venice terminal is the Mediterranean Shipping Company, I ask what synergies exist between MSC, the second largest container shipping company in the world, and the Venetian operations.
"MSC is the largest client of the Venetian port and controls some 50 per cent of the cargo in Venice in terms of containerisation. Of course when you have as a partner the second largest shipping container company in the world, that gives you an added element of strength."
After a hefty investment, Mariner recently introduced containerisation to the Venice terminal, what growth levels does he expect from the move?
"Weíve just started container operations in Venice and for the first year we expect to handle over 100,000. Here and in Riga we expect, conservatively speaking, growth of between 15 and 20 per cent this year."
The shipping industry is one of the most competitive in the world, a fact that doesnít bother Hili. He explains, "There is, of course, competition but what would worry me is if there was no competition. If you donít have competition, it will come nevertheless. If youíre in business you have to have competition and if your business is a good one, it would naturally create competition. We compete very well. We provide a good service - at a good return for us, letís make no mistake about that."
On the future, Hili expects that Mariner "will continue looking for further investments and we are in discussions to this effect at the moment.
"In this type of business the most important and difficult factor is to secure the concession. Once you have that, the other things follow. Itís not like buying a hotel, when you agree on a certain price and itís yours. When youíre dealing with a port thereís a lot of different vested interests at play, considering the high multiplier effect port operations have - you have shipping agents, pilots, tug boat operators and the local port authority to name a few. It isnít that simple, in fact itís a very long and complex process. There are also a lot of toes that can be stepped on so you have to tread carefully.
"One advantage that we had, in Riga for example, was the fact that we come from a small country and as such they donít see us as Ďtaking overí. A port is a very strategic point in a country and while what they look for first are the business prospects we can develop, it does help that we are not viewed as a threat."
On the subject of exactly who Mariner is in discussion with at the moment in its expansion drive, Hili keeps his cards close to his chest, "We are talking to several parties at the moment, but it takes time. You could close a deal in two months or in a year. But, as I said, securing the concession is paramount. Once you have a concession, if you wanted to sell it you would be able to cash in on it the next day.
"When investing in a port or terminal what we look for is the location, if thereís a market to be serviced and if there is substantial scope for development. We are always looking at opportunities and if these factors are in place you take it from there."
This interview originally appeared in our sister paper MaltaToday on 22 June.