| | |
| --- | --- |
| Interview | Wednesday, 22 April 2009 | |
A simple covert listening device costing the perpetrator a measly €200, may end up costing the victim millions of euro in stolen information. Alberta Director Duncan Barbaro Sant speaks to David Darmanin on the incidence of espionage and how it may be counteracted
Do you think there is a market for critical information protection (CIP) in Malta?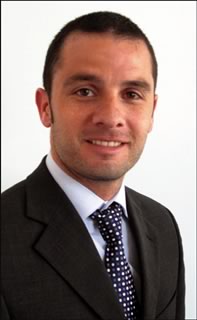 Information is Power. This is precisely why all businesses must protect their information as best as they possibly can. During surveys recently carried out locally, theft of data has increased dramatically. Imagine a Pharmaceutical company discussing ingredients for a new type of medicine whilst their competitor is listening; imagine a security company discussing cash van routes; imagine a political party discussing how and when to implement new taxes; all of them, not knowing an illegal device was installed in their facilities to eavesdrop from a vehicle outside or even an apartment located close by; imagine a director of a company working on his PC while an illegal device was installed on his PC monitoring and logging all activities and passwords being inputted.
All of these situations cost money, whether through loss of business or in the labour hours spent in order to achieve the would-be results subsequently stolen through bugging. We believe the above confirms that a local market for CIP definitely exists.
Who are your competitors? Why should one use your service and not ones offered by your competitors?
So far we are not aware of any one else carrying out these types of services at our level. Two key persons at Alberta have been trained by one of the UK's leading companies in this field, most of whose employees are ex-military personnel. The equipment was supplied by this same company, which also supplies equipment to Government Secret Services.
Do you believe there is a high incidence of commercial espionage in Malta? Is there any incidence at all?
In today's highly competitive market, commercial espionage is thriving. Individuals and organisations are now turning to the theft of information as a way of gaining a competitive edge. Radio Frequency Bugs can be concealed in almost anything that can be found in the office, home or car. They can be the ultimate infiltration tool to competitors, discontented or disloyal employees, business partners or private investigators. Typically, low paid employees such as cleaners, service providers or security personnel are entrusted with planting the devices in exchange for gratuities.
We have been providing this service for just under six months now, and we successfully confirmed a client's fears during the commissioning of one of the services we carried out.
Unfortunately details of this case cannot be disclosed since matters are still under investigation.
What do you do to protect commercial information from leaking?
Education is the first line of defence. The best and first line of defence is to be alert to the signs of espionage through the behaviour of employees and anyone with access to your premises.
By establishing an effective educational awareness on the subject of counter-espionage, a company can reduce the risk of loss from espionage.
For IT protection, encryption and other security mechanisms are obviously essential, but are not enough if the security layers where the data is being stored can be circumvented, for example by a systems administrator.
The best source of intelligence by a competitor or someone intent on sabotaging the company is to use employees who have access to the information they seek. This allows easy access and in many cases, long-term access to information with very low risk to the person commissioning such illegal action.
Investing in Technical Surveillance Counter Measures is the only way to guarantee that a company is protected both from external influence as well as from thus far trusted employees. Apart from bugs inside a room, the telephone is vulnerable to attack at any point along its route from the handset to the telephone line itself. Telephones can be tapped simply by listening to an extension, connecting to a tape recorder or by attaching a radio frequency bug to a telephone line. Professionally installed wiretaps can be difficult to locate, even for professionals with the appropriate equipment.
That is why Alberta has invested heavily in equipment developed by a specialist covert security firm in conjunction with software developers to produce a range of detectors which offer different features and make them suitable for all establishments and applications that need to detect cell phone radiation.
Have you been informed or found cases of political or diplomatic espionage in Malta? If so, without the need of mentioning names, can you elaborate on details of how this was done?
It is a known fact that Malta hosts several VIPs in Malta. These persons can easily be targeted especially when staying in hotels since access to hotel rooms is a minor inconvenience for the spy who is about to plant eavesdropping devices in the actual room or even one of the adjacent rooms. Just over a month ago a service was carried out for a VIP client who chose to rent out a villa rather than stay in a hotel. The company who the VIP works for lost over €15 million last year after a technology that was developed over several years was lost to their competitors by means of an eavesdropping device. Now they take no chances.
What other reasons could there be for espionage to be done in Malta?
With the increasing number of pharmaceutical companies setting up plants here in Malta, as well as online gaming companies, these all have a direct interest in protecting their data. In the case of gaming companies, the infiltration of bugging devices in their computer systems is an obvious danger, especially since they would hold credit card details of thousands of customers. For pharmaceutical companies, with research and development in this field being so cut-throat, any lost data can mean a competitor gaining the multi-million licence for a product costing years and possibly millions in medical research.
Are VIPs visiting the country exposed to the risk of having paparazzi install covert cameras or bugs?
As regards covert cameras, these may be installed in all sorts of places, clocks, AC vents, behind mirrors and so on. It is estimated that over US$800 million of spy equipment per year is sold within and outside the US, a concern for all businesses around the world. Such devices are not always installed to gather intelligence from competitors; their use varies from collecting data for bribery, spying on colleagues when competing for promotions, collecting evidence for separation cases and so on.
How easy is it to intrude on people's conversations or information? What devices are used? Where are they obtained from? Is it expensive to bug an edifice or a telephone?
Bugs come in various forms – some as innocent-looking as a pen or calculator left on someone's desk containing an active microphone, the only drawback being that a battery will only last so long. However, one can easily buy a multiple plug with an active microphone over the internet for as little as €200. Once plugged in, it is automatically powered up and enables the perpetrator to listen in to all conversations.
Furthermore, it is also customary for people to discuss confidential matters while travelling in a vehicle, be it with another passenger or on a mobile phone. Our engineers are also trained to detect devices in vehicles, both internally and externally, some of which take only seconds to implant inside or under a vehicle with the use of a magnet. These devices may relay information on where or who is travelling in the car or being met, thus posing personal security threats as well as information or commercial losses.
How does your equipment work? What signals does it receive to alert you of the presence of bugs, covert cameras or other?
It is not only a question of equipment. Our Technical Surveillance Counter Measures service consists of a minimum of two specialised persons performing electronic and physical searches for eavesdropping devices, commonly known as bugs. The electronic part is carried out using dedicated equipment able to detect active frequencies as well as dormant electronic equipment. This equipment is regularly calibrated and each item has its own method of detection.
The physical part is where a room is manually searched for pieces of equipment that may not be detected with the electronic equipment. A standard search can last from anywhere between 4 and 8 hours - depending on the size and contents of the room. If a listening device is found this will not be removed, instead both engineers walk out of the room to a safe distance, in order to inform the person in charge about the discovery. It will then become the responsibility of the person in charge to either notify the police or further investigate the matter personally.
How are your people trained? What are they trained for?
Alberta has created a working relationship with a strategic global partner in the industry, providing international experience at the local level. Our operatives are trained in the scanning of rooms, telephones, computers and any other equipment which may harbour a bug or threat from espionage. The processor-controlled transmitter can adapt its transmitted signal in response to the characteristics of the detected threat.
Are cases of covert cameras, bugs or the like often reported to the police? If not, why not?
This is purely at the client's discretion. It may not be to his or her advantage to report this eventuality to the police before having caught the perpetrator. We provide the service to our clients and leave it to them to act in the appropriate manner in the most opportune moment, whether to take legal action or otherwise.
What risks are you exposed to when you carry out this service?
We take all precautionary measures in order to effectively carry out our services without risk or danger to our employees. This goes for all situations.
How expensive is it to get your staff to check an office for bugging?
This is a specialised, tailor-made service. It all depends on the premises, complexity and difficulty in scanning the area. It would be inappropriate to give out a price without having first assessed the property and site conditions. However, it is a matter of security, and one cannot put a price on the peace of mind provided by eliminating the possibility of espionage or sabotage.

ddarmanin@mediatoday.com.mt
PRINT THIS ARTICLE

---
Other News
Works on fourth submarine cable launched
New President for the Malta Society of Arts, Manufactures and Commerce
Taking the Sting out of the Bite
Rise in number of dangerous products being detected
Valletta Waterfront gears up for motorsports
Corporate Sukuk with new opportunities of financing capital requirements for Maltese businesses
Dhalia opens new office in Vittoriosa