01 MAY 2002
ISSUE NO. 234
---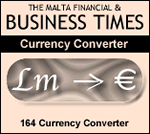 Editorial

Stagflation: why it is happening

Privatisation on the move

By Saviour Balzan
---

---



F O C U S
Alterra knew of conditions attached to preferred bidder status
By Kurt Sansone
The Alterra Consortium, which lodged a judicial protest in a bid to block the part-privatisation of Malta International Airport, knew all along about government's intention to re-open negotiations with other bidders if discussions with Alterra faltered. And this is confirmed by a news report appearing on the Alterra Consortium web site.. READ MORE >>

Inflation not easily curtailed – Leo Brincat
While the Central bank of Malta maintains that overall inflation is expected to ease over the course of the year, the current level of inflation is undoubtedly worrying. READ MORE >>


---




INTERVIEW
Constructing a business from the ground up
Nazzareno Vassallo of Vassallo Builders talks to Ray Abdilla about the state of the construction industry, which is often considered a gauge by which to measure the country's economy. The former Mosta mayor also speaks about the country's cashflow problems and his plans for expanding the Casa Arkati old people's home


OPINION
The state of negotiations
Richard Cachia Caruana, Chairman of Malta's Core Negotiating Group, on Monday discussed developments in Malta's EU accession negotiations and the main issues to be tackled over the next few weeks and months. Following are extracts from his address to the Seventeenth Session of the Eu-Malta Joint Parliamentary Committee


---

NEWS
Controversy reigns over levies on fresh produce
The rows over the removal of levies in one of Malta's most sensitive sectors – agriculture – show no signs of dying down.

Telephone numbers changes effective today
The changes to Malta telephone numbering system become effective today, with a satisfactorily large percentage of phone users aware of the development

MIDI notifies public of road closure at Tigne'
As from tomorrow, the road between Tigne' Sea Front (from Fortina Hotel) to Qui-si-Sana Road (up to Crowne Plaza Hotel) will be closed to both pedestrians and vehicles.

EuroSport set to expand
EuroSport Ltd, the sportswear company based in Birkirkrara, is to expand its operations in a project which could see it become one of the best equipped mega-sports complexes in the Mediterranean

PA chairman asks Labour MP to report corruption to police
Not a man to take allegations of corruption lightly, Planning Authority Chairman Andrew Calleja yesterday wrote to Labour party spokesman Charles Buhagiar requesting him to forward any damning information he might have to the Permanent Commission Against Corruption or the Police.

Telecomms regulator asked to investigate phonemail introduction
Maltacom has come under fire from the Consumers' Union for the indiscriminate way it introduced the phonemail service to all its subscribers without giving customers the chance to refuse such a service.

A focus on health and safety
The media in general has been pin-pointed as the main instrument for promoting health and safety in the workplace. This was emphasised in a seminar on the Occupational Health & Safety Information Strategy, during which further information was divulged on the Twinning Agreement between the Maltese Government and the governments of the UK and the Republic of Ireland.

Bar owners determined to push for bottle bye-law
Owners and managers of Paceville establishments have expressed their frustration and annoyance that a proposed bye-law which would have made it an offence to carry bottles and glasses in the streets of Malta's entertainment spot was blocked primarily because of its wording

Visible trade gap down 31%
According to figures released by the National Statistics Office, Malta's visible trade gap shrunk by over 31 per cent during this year's first quarter.

Heavy competition in Med. Port sector
Competition in the Mediterranean shipping industry has become increasingly stiff, as major shipping lines continually search for the best deals to be had in the cut-throat industry.

The institutional overlap of family run businesses
"In small family run businesses, the family values such as equality, belonging, loyalty and tradition, tend to interfere with business concepts such as competitiveness, merit, delegation and innovation. Indeed, this overlap of family and business values involves a number of advantages, but also has its disadvantages including conflicts and resistance to change".

Toly products expand French market
2001 was an exceptional year for Toly Products in the French market - having opened a sales office in the centre of Paris in 1987, last year the French market became Toly's largest single market for its products manufactured in Malta.

Farsons Group increases turnover by 2%
Farsons Group last week announced that its turnover has reached Lm22,927,000 an increase of two per cent last year.

Windsor Co. completes furnishing first phase for Corinthia's Prague hotel
Windsor Co. Ltd. recently finalised the furnishing of the first phase of the contract it was awarded earlier this year for the Corinthia Towers Hotel in Prague

Malta - Libya Shopping Festival preparations in full swing
Preparations for the Malta-Libya Shopping Festival being organised by the Libyan-Maltese Chamber of Commerce in Tripoli, Libya in November 2002 are now in full swing with the conclusion of negotiations with Libyan Authorities for the approval of all necessary permits to hold the Festival.