| | |
| --- | --- |
| interview | Wednesday, 29 July 2009 | |
Baron Group Director Francis Xavier Tabone, 41, created a small empire in a matter of less than 20 years. He owns a property development company that has just recently entered into an investment of €18 million; Gozo's largest holiday homes rental firm; a contracting company; an insurance office and a real estate agency. He attributes his success to proper customer service. Interview by DAVID DARMANIN
When was Baron Group formed and under what circumstances? Why the name?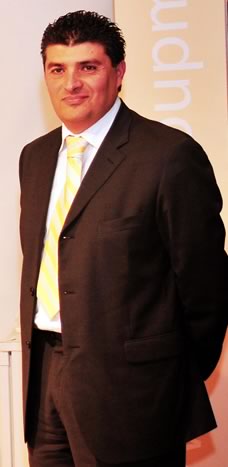 The reason why the group is called Baron is an old story which we don't tell very often. But in a nutshell, it so happens that my partner Tony Ellis and I had crossed each other's paths on several occasions but we were never friends. We went to the same schools and we worked at the same places. I knew he existed and he knew I existed but it stopped there. When we did eventually become business partners, the story reminded us of a book we had both read: Cain and Abel. The only difference is that instead of becoming rivals, we became partners. Baron Hotels had featured in Cain and Abel's story, so we created Baron Homes.
Baron started almost 20 years ago, some time after Tony had asked me to help him out with works at a property belonging to friends of his. From there, we started off with turnkey contracting – and this developed a base for us to venture into property management, a new area in Gozo at the time. There were already a few individuals involved in property management before us, but since this was done very casually, we decided that if we were to offer a professional service, we would be filling a gap in the market. We thought well. Expatriates with houses in Gozo were very happy with these services – because we offered a one-stop-shop for them.
In what areas does the group operate nowadays? How is it divided?
Baron Contracts Ltd – our turnkey contracting arm was what started the group. Nowadays, this is the last company we publicise because most of the work it does is for our own properties. It is practically a firm for in-house services.
Then there is Baron Homes, which handles property development in Gozo. Baron Holiday Homes on the other hand, is more involved in tourism – as it handles property rental. Thank God, we can safely say that this is nowadays the top property rental company in Gozo – and is also of high repute among a number of tour operators abroad.
Although we had already had a one-to-one real estate services company called L-Aġenzija, when the Baron name started growing, we had decided to take it a step further and go into partnership with Legend Real Estate – both in Malta and in Gozo. We had then pulled out of the Malta branches of Legend so we could focus more on development. However, we kept the Gozo one going – which still operates until this day.
We now also offer insurance services, and Compass Group Ltd turned out to be one of the most popular insurance companies in Gozo. Our success in this field, as well as with any other, is mainly attributed to the fact that we offer a personalised service.
AXT Ltd was set up almost eight years ago to buy, redevelop and sell residential property in Malta.
We've also set up Hillock Investments Ltd recently, which is set to redevelop the premises formerly known as Atlantis Hotel into a luxury residential complex.
How has the property market in Gozo developed over the years?
One must first of all bear in mind that the needs of the Gozitan property market differ from any other, in the sense that Gozo is very small. However, the Gozitans keep considering brick and mortar as the best possible investment – especially after World War II, when people started realising the importance of owning their own homes.
Then in the 1970s and 80s, demand increased substantially as both expatriates and Maltese people started buying their second homes in Gozo at very advantageous rates. After that, the market dynamics changed drastically as it is now the internal market that seems to be the strongest, while the foreign market has opened up to take a considerably wider spectrum. Whereas the expatriate community was previously almost made up of the British, we now see a more diverse range of property buyers, including Germans and Scandinavian. That said, we still very much depend on the UK market, and this has to change. We need to start promoting the destination in other countries outside the UK, especially now that the global recession has seriously affected our primary markets.
I would be lying if I told you that we did not feel the pinch. But people still have money. They are simply more cautious and are looking for good bargains. But enquiries are still coming in, for any type of property.
Are there any disadvantages in running a Gozo-based business? What are the advantages?
I don't look at it in terms of advantages or disadvantages. When there's a will there's a way, and Gozo is not more disadvantaged than other areas. Each commercial area, even London, has its own downsides. Also, with a laptop and an internet connection you can be anywhere in the world nowadays. By all means, Gozo suffers from double-insularity and because of this, I would say that the Gozitan businessman tends to be better prepared. The problems in Gozo are structural. There are issues with tourism for example, because up until some time ago, the island was not marketed as a separate destination.
As a member of the Gozo Business Chamber, I recently attended a conference where one of the keynote speakers had gone all out in saying that we should not wait for government to do something about the situation, but that we should take the initiative ourselves. My take on this is that government and the private industry should start working closer together. Gozitan businessmen are already taking initiative, and many are eager to work with government for the same aims. As Baron Group, we already invest thousands in marketing Gozo abroad. We need to do this because if we want to sell our property to expatriates, we have to start by answering the question many foreigners ask us: "What is Gozo?" We would like to see government help us out in delivering to our clients, the answer to this question in a more effective manner.
Then there is the issue of mobility. No doubt, over the years, the Gozo Ferry Services has improved. But we mustn't forget that we are competing with every other destination in world – even with Phuket or anywhere in Argentina or Mexico. I strongly believe that an airfield in Gozo would solve a lot of problems. The fact that we depend on the ferry causes an inconvenience. Say the ferry doesn't work and I have to go abroad. I would have to cancel. But also, what about those people wanting to come directly to Gozo from overseas? Some of my clients for example, own a private jet. When they come to Malta they must land in Luqa and come up all the way to Gozo. I think it is in the national interest to have an air strip setup in Gozo.
What comparisons can you draw between the Maltese and the Gozitan property market?
Property is property, anywhere in the world. But every destination has its own culture, and the market will very much work in tandem with this factor. The market dynamics of Malta and Gozo for example, tend to be different because of cultural differences. In Malta, there is the current need of catering for foreign companies – so buildings have to be developed and finished in hi-tech. Even though there are a few foreign companies based in Gozo, I still think that most people visit the island because they want to relax, charge their batteries and go back to work. This is why farmhouses have always been very popular in Gozo. I think we should take the direction of marketing each destination for what it really offers. Mind you, the MTA already does a lot, but unfortunately we cannot achieve what we would like to if we still push the sun and sea brand.
Have people stopped buying second homes in Gozo?
No they haven't. But there was a wave, a trend if you like. There have been many factors which could have influenced this wave to calm down – including investments in Tuscany or Sicily. However, Maltese people remain eager to invest their money. They are still interested. I have always propagated among the Gozitans that the Maltese client remains the best one.
What are the challenges facing the property market nowadays? What are you doing to overcome them?
There are always challenges. Like in any other business, it is important that in property, you keep improving on your competitiveness. We have always tried hard to go the extra mile – be it in terms of property design, or even to make our client's stay more practical. Quality and innovation have always been part and parcel of any investment we undertake. We take the maximum out of a development opportunity – and this works both for our client's benefit, and of course, for ours because we become more competitive. There will be a point when only top-quality property will sell. People are spoilt for choice nowadays, and what is most in demand nowadays is quality and reliability. This is very understandable when we bear in mind that ultimately, when most people buy property, they would be making the biggest investment of their lives.
What new projects do you have in store for the foreseeable future?
We have just launched the Hillock, which consists of an investment of €18 million into a residential complex in Marsalforn. Our next step is to come up with a new tourism concept in Gozo, which should take off by 2011. With this idea, we plan to change the face of farmhouse rentals in Gozo – with the provision of many new services going with it. One of them includes the offer of an agricultural twist to holidays.
Where do you see the group in say, 10 years time?
Besides wanting to grow bigger and stronger, our plan is to retain our original ideology in keeping our clients at the centre of whatever we do. Baron Group has come a long way, and we attribute our growth to this principle. This is what kept us striving for quality. I am confident that we will keep growing in this spirit throughout the next 10 years.

ddarmanin@mediatoday.com.mt
PRINT THIS ARTICLE

---
Other News
Businesses, households at a standstill all day
Government announces €100m stock issue
"There isn't enough money": Sea Malta liquidators tell creditors
CBM Governor does not foresee any ECB rate cuts
Gozo hotels face highest drop in occupancy
New government, new future in Bulgaria
BOV warns of "uncertain" economic conditions
Nintendo chooses Gozo for European launch of 'Wii Sports Resort'
Design and practicality meet at DEX
GO introduces BlackBerry® on prepaid
Tourism: Grasping the challenge with both hands
Milk crisis: Commission proposes measures to stabilise dairy market